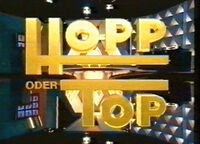 Hopp oder Top (possible English equivalent: All or Nothing) is a German-language version of Sale of the Century, which aired in Germany from 1990 to 1993.
Broadcast History
Edit
Tele 5: 1990-1992
DSF: 1993
Production Company
Edit
Grundy 1990 TV Produktion
Andreas Similia (1990-1991)
Thomas "Thomy" Aigner (1991-1992)
Hermann Toelcke (1993)
Angela "Angelika" Petersen
Announcers
Edit
Stephan Lehmann
Fred Früh
Frank Wölfel
Three players were given 20 Deutsche Marks (DM) to start off. Each correct answer was worth 5 DM, which could also be deducted from a player's score if any of them answered a question incorrectly. The points earned by the contestant who was in the lead during the show could be spent in several "gift shops" on prizes. Prices usually started at 6 DM for the first round, 9 for the second, and 16 for the third. The host also tried to convince the player who was in the lead to buy the merchandise item by dropping the price and/or offering money to go with it. On occasion, additional money could also be won if a player bought. (One contestant who played for the lot refused a Gift Shop in an early 1991 episode, and subsequently missed out on an additional 20.000 DM (equivalent to $12,000 in US money back then).)
During gameplay, three "Fame Game" questions were also asked. The contestant who answered correctly could choose a number from 1 to 9 off the "Fame Game" wall. Behind each number were either prizes or a 10 DM, 15 DM (starting with the 2nd question), "Hid" or a 25 DM bonus (starting with the 3rd question).
The winner was also able to either choose a prize by going shopping or accumulating more Deutsche Marks for a higher prize by playing on the next episode. The first prize required no minimum number of Deutsche Marks as they had the right to that just for winning. The second-level prize required a total of 160 DM. Prices went up 90 DM per prize level. Upon reaching 520 DM (initially 610), the winner won a then-current BMW of three series (E36 Sedan or Coupe, E30 Convertible or Touring) or the E34 5 Series, worth over 60.000 DM (equivalent to over $36,000). 610 DM won a cash jackpot starting at 80.000 DM (equivalent to $48,000) and going up by 1.000 DM (equivalent to $600) a day until won. A total of 700 DM (in which the player would be called a Superchampion) won the Lot (all previous prizes plus the Cash Jackpot). Overall, over 300.000 DM (equivalent to $181,000) could be won depending on the level of the jackpot and value of the prizes. The highest total was won on 1 July 1992, marking the highest achievement to date in any German game show in history.
Up to 500 episodes were produced for this version alone as at November 5, 1992, with five Superchampions winning the lot.
The two losing contestants both received a silver "Money Clip" and all the prizes they bought in previous gift shops and won in the "Fame Game" rounds as their consolation prize.
Some of the episodes were shown on tm3 from 1996 until 1999 for a grand total of over 1,000 repeated episodes in broadcast.
The pilot episode was called Angebot des Jahrhunderts (Offer of the Century), and was taped in the same studio as the Australian version of Sale of the Century. It was hosted by Andreas Similia (then using the name "Andreas Sportelli"), and featured a blooper where Andreas stumbled on his words after the final Fame Game and exclaimed in English, "I'm wrong, I'm fucking wrong!"
Hopp oder Top used the theme music and most cues from the UK version's second run, as well as the Australian "Cash Jackpot" music cue.
YouTube Videos
Edit
Ad blocker interference detected!
Wikia is a free-to-use site that makes money from advertising. We have a modified experience for viewers using ad blockers

Wikia is not accessible if you've made further modifications. Remove the custom ad blocker rule(s) and the page will load as expected.